This is a dinner menu that we have designed for our restaurant Domku. This menu was specially designed for people with no experience with Slavic cuisine. We wanted to create a menu that everyone would find interesting and not get confused. We also focused to give you a visual presentation of the food that is on the menu in order to make your choice easier. We can guarantee that no matter what you order from this menu, you and your family or friends will be satisfied with the quality of the food.

Another advice before you make your choice is to not be scared of trying new food, even if you never heard of something, we suggest that you order it to expand your knowledge about Slavic food and tradition. That's right, when you order something, you are not only getting the food, but you are getting the original Slavic tradition experience.
Traditional Goulash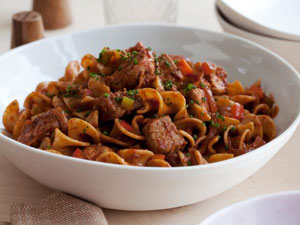 One of the must-have dishes that we offer is the Goulash. Most likely you have heard about this dish because it is very popular all over the world but not many people know that it is actually originating from Hungary. What is goulash, that is a question we get all the time, well it is a unique stew of meat and some vegetables that are prepared very specially. The key ingredient that gives the goulash the unique taste is not the meat, but the seasoning that goes into the mix. Well, to be more specific it is the paprika that gives the Goulash the taste that you will never forget.
Bigos
This is a very similar dish to the Hungarian goulash, but it is prepared differently it is called the hunter's stew because it was the main meal that hunters would eat after the hunt. It is a Polish dish that is prepared with finely chopped meat. One of the ingredients that you have in this goulash type is freshly shredded cabbage. This cabbage gives the unique flavor that cannot be mistaken for anything else. We strongly suggest that you try this dish out.