One of the most versatile meals that you can make and combine with different food is pasta. The Italians are the masters of pasta recipes, but it is not impossible to make a good meal even if you are not from Italy. This type of food was introduced in Sicily in 1154 and they had introduced two categories of pasta: dried and fresh one. In case you need to dry some of your ingredients or food, we recommend you using dehydrator devices. For more information, you can check www.dehydratorspot.com to find out more.
Macaroni and cheese
This classic dish never gets old, and it is more than easy to prepare it and you will not need more than 40 minutes to prepare the dish completely. You will need:
4 cups of macaroni
1 egg
4 tablespoons of butter
¼ cup of flour
2 cups of milk
2 teaspoons of mustard
1.5 pound of cheddar cheese
Salt
Half of teaspoon of black pepper
1 pound of bacon
3 onions
3 tablespoons of butter
8 ounces of Gorgonzola
Preheat your oven to 350 degrees and cook macaroni until they become a slightly firm, drain and put them aside. Melt the butter, pour in flour and heat on the medium temperature, while whisking. Add the milk and mustard, and continue whisking until mixture becomes smooth. Cook for about 5 minutes and reduce the heat to the minimum. Now, beat the egg in a pot, pour in the sauce and whisk constantly until becomes smooth mixture. Now, add cheese, half of teaspoon of salt and pepper. Make sure you don't add to much or not enough salt or other spices! Now, add the cooked macaroni to combine everything, put Cheddar on the top and bake for about 20 minutes. Now, set the medium temperature and fry bacon until becomes crisp and cut it into small pieces. In the other pot, cook onions until they become caramelized, and put it the crumbled Gorgonzola. Now, use these as toppings for your macaroni and enjoy!
Fettuccine Alfredo
This is another easy recipe that takes no more than 20 minutes to make. You will need: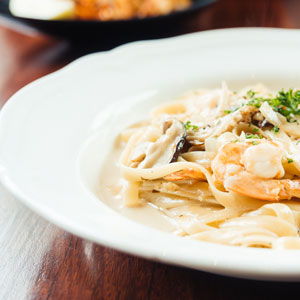 1 tablespoon of butter (unsalted)
1 garlic
2 teaspoons of flour
1 cup of low-fat milk
Kosher salt
2 tablespoons of low-fat cheese
¾ cup of parmesan
3 tablespoons of parsley
12 ounces of fettuccine
Grounded pepper
After you melt butter at the medium heat, add garlic and cook for about a minute. Now, add the flour and stir, while slowly adding milk with the slight stir. Add parmesan, chopped parsley and stir. Now, pour water in other pot, add salt and let it boil. Pour in fettuccine and cook 2-3 minutes, and then drain pasta. Now, add the sauce to the pasta, add more water if needed and put parmesan on the top and season with pepper!
Penne with shrimp and cream sauce
Another easy recipe that combines pasta and seafood. You will need:
1 pound of penne pasta
¼ cup of olive oil
1 pound of peeled shrimp
4 garlic
Half of teaspoon of kosher
Half of teaspoon of pepper
1 can of tomato
Half of cup of basil leaves and parsley
1 cup of white wine
1/3 cup of clam juice
¾ cup of cream
Half of cup of parmesan
Boil the salted water and add pasta and cook it for 8-10 minutes. Then drain the pasta and take the other pot and heat it at medium, while adding garlic, shrimps, half of spoon of salt and pepper. Cook and constantly stir until shrimp change color to pink – usually for about 3 minutes. In the same water, add tomatoes, parsley and paper and after two minutes of cooking, pour in white wine, juice and cream. When the mixture boils, reduce the heat and let it cool off for 7 minutes. Now, add ¼ cup of parmesan, shrimp, pasta and herbs. Mix together, season it and eat!